After seeing how the acrylic ink pours that I did a couple days ago dried and looked when dry, I decided to try some more.  This time I was a little more careful of how much Floetrol I added.  I used about 30-35% Floetrol, since the FW Inks are so heavily pigmented.  I added about 10 drops of silicone.  (Since I had so much silicone spray, I collected the spray in a bottle with a dropper, outdoors, for more accurate application, and less air pollution indoors when using it. ) Even with that much diluent the colors are dark and bright appearing.
The first pour was a swipe pour on a piece of gessoed mat board, about 11×14″ (27×35 cm) I had stapled to a paint board.  I think pouring on a paper base, instead of a non-absorbent surface like a tile, hastens the drying process immensely. The same applies to using canvases, but when it's dry there's no canvas pattern showing.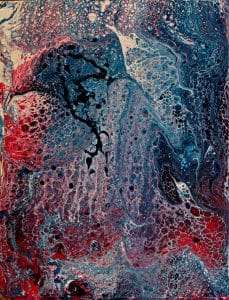 I still had quite a bit of paint left, so did a dirty pour on an 8″ tile. The excess paint that ran off from that pour is very interesting, and I'll leave it on the Freezer Paper to dry and peel off in a couple days.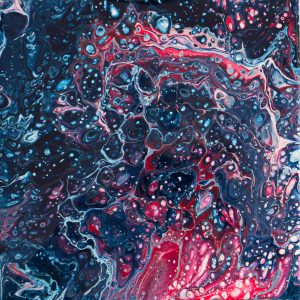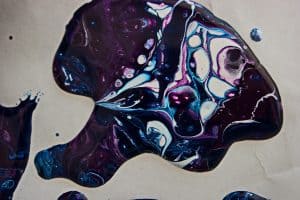 Still had some paint left–gee, does it reproduce and multiply in the cup? So did a 4″ tile. Didn't have but a few drops of the red left, so it doesn't show.
Will be interesting what these look like in a couple days when they're dry.  I'll post some more pictures then.