All completed this winter and early spring.  This one is called "Transformation" and is mixed media, 15×11″. Includes old house paint and watercolor, gesso and embroidery stabilizer as well as acrylic ink.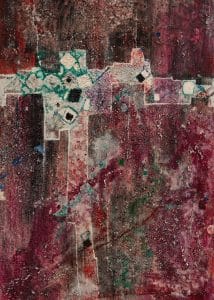 This one is "Gentleness." It's an acrylic pour done on mat board that was prepared with Gloss Medium on both sides.  The lines added later are acrylic ink, done with an old fashioned nib. It's 15×11″.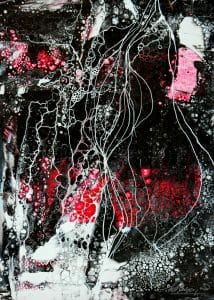 And the last in this post is "Cladonia" which is an acrylic pour on Yupo.  It looks a lot like the lichen "British Soldiers" which is very common in the woods Up North.  It's 13×10″.