This started as an acrylic pour in black, yellow and red.  It was nice cells, but otherwise didn't have much interest. From another pour I had some drippings that looked like petals, so I added them forming a flower shape.  The center was another piece of "pour puddle" which I enhanced with some brown dots of acrylic.  The acrylic pieces when peeled off the freezer paper they were on, adhered immediately and permantently to the acrylic pour on the tile.   I outlined the whole flower and stem with yellow acrylic and enhanced some of the yellow lines from the pour.  I like it very much now.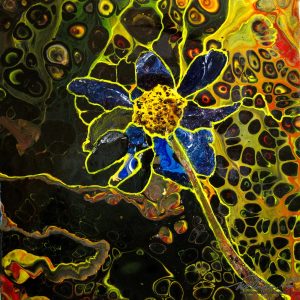 Now I'm giving it a couple more coats of UV Varnish and adding some hanging loops on the back, so I can string some picture wire on them and hang it as a normal painting.
Comments appreciated.