Just got back from a great experience painting with Helga Flower.  (http://www.helgaflower.com/HFBiopage.html   and  https://www.facebook.com/helga.flower.9)
We played with pouring techniques. She had a piece of thick foamcore board 30×20″ and I decided to try a swipe pour.  Mixed up a about three hundred ml of red, yellow, black and white paint with PaintEasy, water and silicone.  Everything worked well, and I stabbed into the painting with the edge of a piece of Yupo I was using for the swipe.   Only problem that happened was the bending of the Foamcore from the wet media. All the beautiful cells in the lower part didn't stick around. But, it's still nice.  I'm thinking Yupo may be better for doing large pours because it doesn't curl when  wet.
This is a piece about 9×12 of Yupo that we did a preliminary pour with. It did not curl at all, and didn't loose any cells over the edge.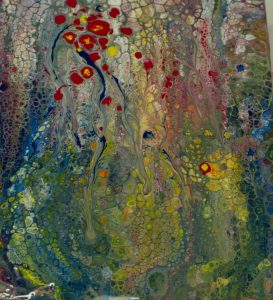 This picture was taken just after completing the pour.  I had to take it a quite an angle to prevent glaring from the overhead light.
The main star of the show was this piece–30×20″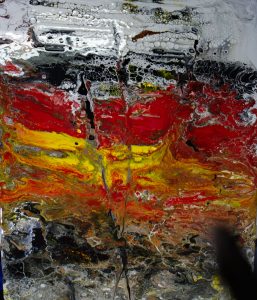 Again, tremendous glare from the above light, so it's a little distorted and  I got a dark spot (shadow) on the lower right.  Helga's picture later is much better.  (She has it posted on her Facebook page.) Since this was on 1/2″ Foamcore board we didn't think it would bow out, but it sure did, and it lost a lot of the cells on the bottom and in the red area.
We used a formula of 2 parts paint and water mix (the paint I was using was old and quite thick, so I diluted with water to normal fluid acrylic thickness),  and then mixed this two parts to one part of PaintEasy.  [Or approx 30% PaintEasy and 66%  fluid acrylic paint.]  PaintEasy is another product that is much thinner than Floetrol, so less water is needed for the final mixture.
Some other pictures from our Soo adventure are here (click on the picture below to see all the others.)
Thanks for looking.  Comment?