At "Art Club" at Portage Senior Center we've decided that we all need practice at sketching. We did just simple shapes last week, and this week had a set-up which is interesting. None of us got it anywhere near finished. So, I'll just post the setup now and later the results.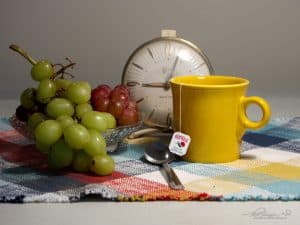 This is a middle view that I saw from my seat around the table.  The grapes were real, but I'm going to change the time on the clock in my drawing.
Thanks for checking it out. If you would like to have a better (larger) file than this, for your own use, just let me know.  Contact listed on my "About" page.