All, completed this past winter and spring.  I've been working with watersoluble embroidery stabilizer and the possibilities of using it on old failed paintings.  All three of these have been done previously on stretched quarter sheet 140lb Arches paper.  All are done with water soluble media as well as art markers and the embroidery stabilizer.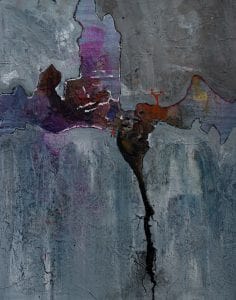 This is called "Cracks" AND I think it has two layers of failed paintings underneath.
This is "Alien House."
And this is "Acentric Heraldry" and has a couple of layers underneath as well as some thick collage which adds to the texture of this top layer.  The small centers of the black spots are pieces of gold colored ribbon.
I still have about five or six more that are not quite finished, but will be soon, and I'll present those next.
Comments always welcomed and encouraged.  🙂