This afternoon I mixed a good amount of paint for pours. I used Dick Blick student grade fluid acrylics. They are quite old and were a little thicker than when purchased a couple years ago, so I mixed a little water in also.  I mixed all 5 paints the same way.
1. 60 cc. of paint
2. 30 cc. of PaintEasy
3. 4-5 cc of water as needed to thin it down to what I estimated the original viscosity of the paint was. I used, Titanium White, Ultramarine Blue, Magenta, Chrome Yellow (Probably a Cad Yellow-looks like it) and Mars Black.
4. Added 10-14 drops of Silicone. The silicone I use is from a spray that I spray in a larger bottle and then add to a dropper bottle. This technique keeps from getting all the chemicals in the spray indoors, as I can spray it in the bottle outside.
Here are some pictures of the pieces I did. First though my setup.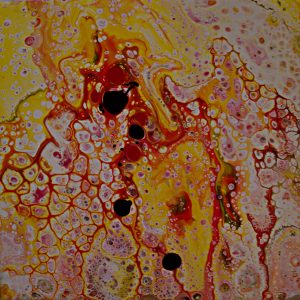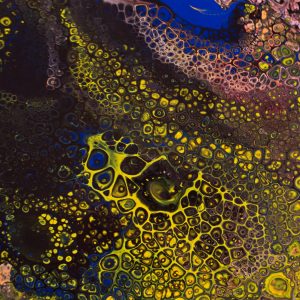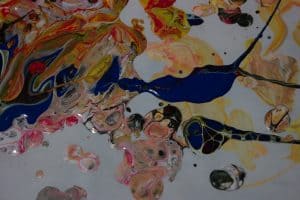 You can see from the last two that white is NOT necessary in every pour.  You can get cells without the white,  and I think they're even better than with white.
Please add your comment or questions about my techniques.