I did a swipe pour on a 20×16″ canvas. I didn't keep it very level and a lot of the cells just ran off the side. Didn't like the look of the canvas texture either.  I thought it might make a good background for a painting. Started adding things, first some straight lines, and then followed some of the lines in the original background with the same pen. Made a variety of lines, but it still didn't seem to say anything. Went back to look at some of the freezer paper that had all the drippings/skins from previous pours, and found just the right colors. Since they were a couple weeks old, they peeled off the paper easily and I applied them directly to the background. They stick well when pressed down. Don't leave them too long as they become permanently adherent.  So, now I'm not going to throw any papers away that have drips on them.
Here's the result so far.  I'm going to add some more details to it with skins before it's finished. I think it'll be called High Wire Act.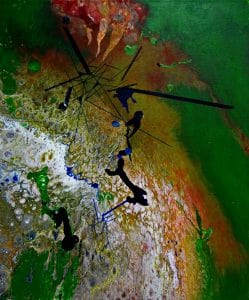 Thanks for reading. I hope this was helpful and gave you some ideas. If you have any comments or suggestions please say in the comments.